Celebrate Asian American & Pacific Islander Heritage Month with APASS!
Catch up and view USC's AAPI Heritage Month Kick-off on May 3, 2021.
Connect with these USC Resources to learn how to get involved on campus!
Asian Pacific American Student Assembly (https://www.uscapasa.com) – apasa@usc.edu
Asian Pacific American Student Services (https://apass.usc.edu) – apass@usc.edu
Asian Pacific Alumni Association (https://alumni.usc.edu/apaa) – apaa@usc.edu
Asian Pacific Islander Faculty and Staff Association – apifsa@usc.edu
---
Watch along with APASS!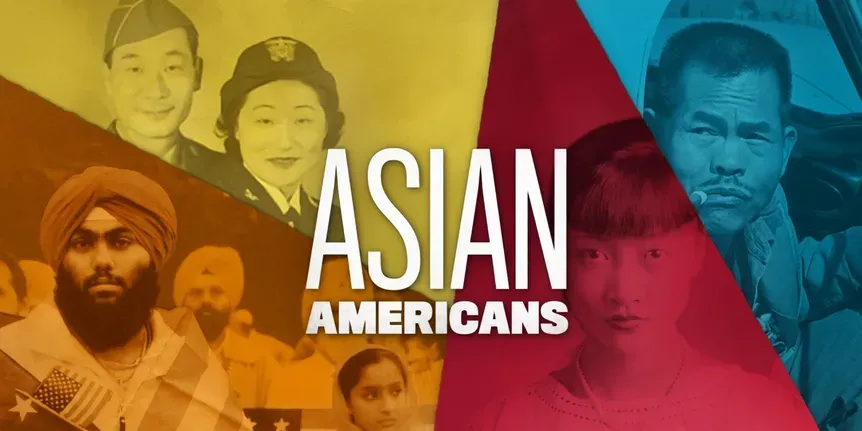 Asian Americans: NOW STREAMING on PBS
*Note: PBS re-released the Asian Americans documentary for 2021. All episodes can be located here: https://www.pbs.org/show/asian-americans/
Asian Americans is a five-hour film series that delivers a bold, fresh perspective on a history that matters today, more than ever. As America becomes more diverse, and more divided, while facing unimaginable challenges, how do we move forward together? Told through intimate and personal lives, the series will cast a new lens on U.S. history and the ongoing role that Asian Americans have played in shaping the nation's story.
EPISODE 1: BREAKING GROUND
In an era of exclusion and U.S. empire, new immigrants arrive from China, India, Japan, the Philippines and beyond. Barred by anti-Asian laws they become America's first "undocumented immigrants," yet they build railroads, dazzle on the silver screen, and take their fight for equality to the U.S. Supreme Court.
EPISODE 2: A QUESTION OF LOYALTY
An American-born generation straddles their country of birth and their parents' homelands in Japan and Korea. Those loyalties are tested during World War II, when families are imprisoned in detention camps, and brothers find themselves on opposite sides of the battle lines.
EPISODE 3: GOOD AMERICANS
During the Cold War years, Asian Americans are simultaneously heralded as a Model Minority, and targeted as the perpetual foreigner. It is also a time of bold ambition, as Asian Americans aspire for the first time to national political office and a coming culture-quake simmers beneath the surface.
EPISODE 4: GENERATION RISING
During a time of war and social tumult, a young generation fights for equality in the fields, on campuses and in the culture, and claim a new identity: Asian Americans. The war's aftermath brings new immigrants and refugees who expand the population and the definition of Asian America.
EPISODE 5: BREAKING THROUGH
At the turn of the new millennium, the national conversation turns to immigration, race, and economic disparity.  As the U.S becomes more diverse, yet more divided, a new generation of Asian Americans tackle the question, how do we as a nation move forward together?
To learn more about Asian Americans, view an interactive gallery, specials, extras, and the behind the scenes process, click the link here: https://www.pbs.org/weta/asian-americans/.
---
Revisit and catch-up with all of the virtual programs we offered, including:
Podcast Party – highlighting APA stories and narratives (Hosted by Prim Phoolsombat)
Live Art – find new artists and explore new art (Hosted by Sovi Cao & Sunshine Liu)
Wellness Wednesdays – focus on all aspects of your well-being (Hosted by Richelle Caday & Sunshine Liu)
Lit Circle – explore and read fiction and non-fiction pieces by APA authors (Hosted by Prim Phoolsombat & Sunshine Liu)
CIRCLE Roundtable – dive even deeper on APA social issues (Hosted by Aileen Kim & Mya Worrell)
May is APA Heritage Month! Continue your virtual learning about APIDA experiences, stories, history, and culture. We have curated a list of literature readings, podcasts, articles and more!
Check out our resource list by clicking the link here: bit.ly/APAHMresources
Did you miss some of our virtual programming? Check out a few recorded sessions by clicking the links below:
Spiritual Care
Presented by Vanessa Gomez Brake, MS
Vanessa Gomez Brake, Associate Dean of Religious Life, shares how you can get started on your spiritual care journey. Learn new tools and activities to begin your practice.
Click the link here to watch: https://bit.ly/spiritualapass
Thriving and Managing Stress During COVID-19
Presented by Dr. Annie Hsueh, PhD
Dr. Annie Hsueh is a clinical psychologist at Counseling and Mental Health Services at USC Student Health and Clinical Assistant Professor of Psychiatry and the Behavioral Sciences at the USC Keck School of Medicine. During this unprecedented time, learn about the different types of stress you or someone you know might be experiencing and what you can do to help improve your mental health and well-being.
Click the link here to watch: https://bit.ly/tcstressapass
PEER Community Workshop: Healthy Relationships
Presented by Sarah Hong, MPH, MIA
With the sudden transition to virtual learning and students needing to return home due to COVID-19, how has this change impacted your relationships as you shelter in place? Sarah Hong, the Violence Prevention Specialist from Relationship and Sexual Violence Prevention Services (RSVP), discusses how our relationships might be impacted or have changed and shares what steps we can take to work through and improve them.
Click the link here to watch: https://bit.ly/apassrelationships
Podcast Party: Asian Americana – Episode 9 "Dawn Mabalon is in the Heart"
Hosted by APASS Center Coordinator, Prim Phoolsombat
In this session of APASS Podcast Party, we are diving into Asian Americana: Episode 8 — "Dawn Mabalon is in the Heart." Dr. Dawn Bohulano Mabalon is a groundbreaking scholar, historian, and community organizer who made sure the world would know the stories of Filipino Americans and Stockton's Little Manila. Watch to learn more about themes of Filipino-American history and community activism. Listen to the podcast on Spotify, Apple Podcast, or where ever you listen to podcasts.
Click the link here to watch: https://www.youtube.com/watch?v=Y5Tx9kh_4eA
Learn more about the podcast Asian Americana by clicking the link here: http://www.asianamericana.com/
Live Art Tuesday: An Interview and Performance with Singer/Songwriter, Leo Xia
Hosted by APASS Center Coordinator, Sovi Cao
In this session of Live Art Tuesday, APASS welcomes Leo Xia, a singer, songwriter, and USC and APASS alum! Watch to learn more about Leo's journey in music in this interview style session. He also performs a few of his songs for us!
Click the link here to watch: https://www.youtube.com/watch?v=Q1DI8ecM188
---
With Love and Solidarity,
The APASS Staff Team